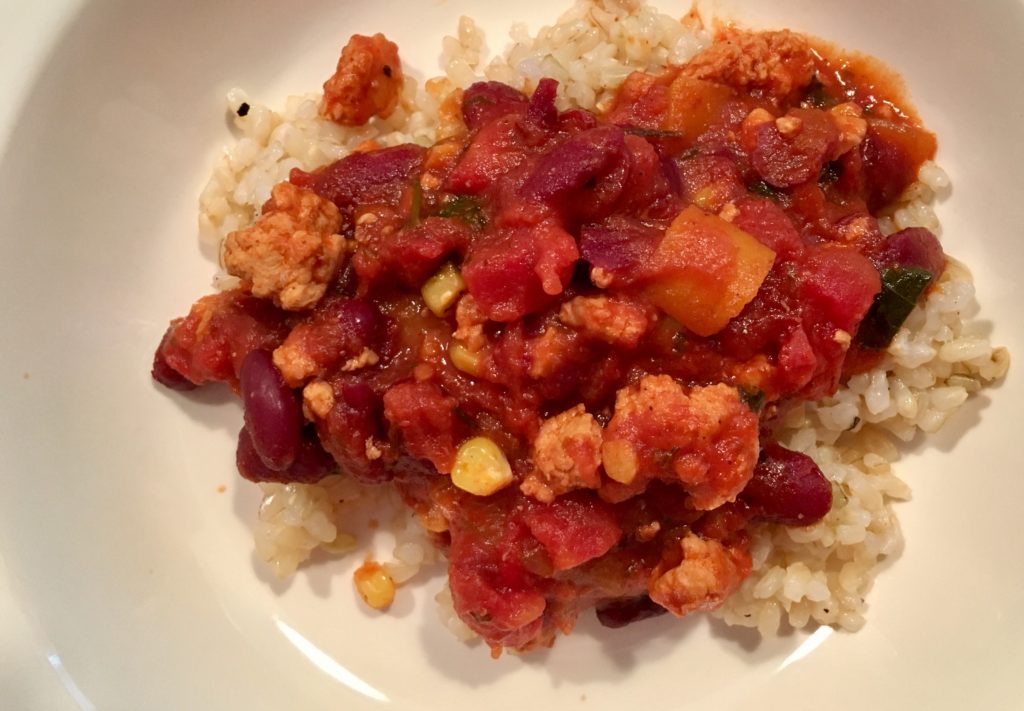 When I posted this chili photo on social media, a friend of mine asked me for the recipe.
Picture me as a deer trapped in headlights!
Recipe?
Hmm …
Recipe??
I think of those stiff, bound books in my family's kitchen growing up. The ones I would browse through, see that we did not have most of the ingredients, close back up again with a sigh, and put back.
But, I decided that I wanted to help inspire my friend, who, like me, really enjoys cooking.
Typically, my chili is the same recipe but with things that go in and out of favor (for instance, I tried tomato paste again this time – after not having used it for a while… yum) as well as just going for whatever veggies happen to be in my fridge.
Here's what I came up with. Let me know your results if you try it.
Recipe!
2 – 15 oz cans of organic, no salt added stewed tomatoes
1 – can of organic tomato paste
3/4 lb – ground turkey breast
1 – can of organic kidney beans
1 – ear of organic corn
1 – organic sweet onion
2 – organic scallion stalks (I did not use the leafy part.)
2 – chopped organic carrots
1 – organic yellow pepper
Oil
Fresh basil
chili powder
cumin
cilantro
rosemary
oregano
3 – bay leafs
Saute ground turkey with chopped onion in frying pan with some oil.
Transfer to large pot and add other veggies, stewed tomatoes, tomato paste and spices. I put about a cup and a half of water in as well and stirred and let it simmer on medium flame, covered.
I stirred periodically, added more of the spices (other than bay leafs) about three times and some water once or twice. I'm not sure how long it simmered (maybe an hour?) but when I tasted it it was delicious and so I turned off the heat.
With my brand of rummaging for recipes, you never really know how it's gonna turn out but this one was a keeper!