As soon as I arrived at the parking garage for this year's CT NOFA winter conference, there was no mistaking where I was. All you had to do was look at the rear ends of the cars for bumper stickers about farms and nature and getting along with one another.
Which, as it turned out, is what the winter conference – their 34th annual, held March 12 & 13, 2016 – was all about as well.
CT NOFA is the Connecticut chapter of the Northeast Organic Farming Association. Established in 1982, the group works with farmers, gardeners, land care professionals and consumers to encourage a healthy relationship with the natural world.
This year's conference was the most popular yet with over 850 attendees. And boy did they have good workshops for the choosing.
I counted 66 workshops for the Saturday portion of the conference I attended! There were lots on growing – saffron, tomatoes, mushrooms, fruit trees – and much more. There were practical advice workshops for farms on  topics such as scheduling and financial organization.
Interested in beekeeping, food system strategies, creating community food security or homesteading? Yeah, they've got that.
There were classes geared toward healthy eating and how-tos such as Kombucha fermentation and extending the growing season with high and low tunnels.
It was an impressive array of education.
Welcome!
When I go to this conference, it is like taking a flying saucer to my mother ship. So, here's where all the people who speak my language gather, I tell myself! All the rest of the year I am an alien, but now I am back among my people.
You see, while a great deal of the festive nature of the event – for me – is learning about things that I find meaningful,  the resonance of being there has to do with the faces of people who have played a large role in my learning. Who have helped inspire and educate me to get to where I am – and to want to go further.
Many of them were part of the local food movement before it became trendy – and have infused it with a heart full of sincere advocacy.
Generosity of spirit
Speaking of which, one of my foodie mentors, Bill Duesing, received CT NOFA's lifetime achievement award – and I was so happy to see him honored. Nobody is more worthy.
I expect I will always value what I have gained through being on the receiving end of his emails and phone calls..
All I have ever had to do is reach out to him for help with a topic I am writing about that has to do with the natural world – and he has been there for me.
Bill is the guy I call on when I want someone who isn't afraid to give it to me straight – and offer up quotes that nail what I need. There is no pussy-footing around sensitive topics for this man. All that matters is getting the truth out to help heal our environment.
It's like taking a master class.
Bill is a member of Yale University's class of 1964 and has been an organic farmer, author and environmental activist for decades. He was founding president of CT NOFA and served as the group's executive director for 12 years.
He set the tone. It is no surprise that he has taught me – and countless others – the value of speaking out for this cause.
NOFA for all New England created an award in Bill's name – The Bill Duesing Lifetime Achievement Award – and Bill was the first recipient at their 2015 summer conference. What took you so long CT NOFA?! 🙂
In his speech, Bill spoke about CT NOFA's missions and goals.
He said they want us to keep natural resources available here.
"We're looking for the preservation of existing farmland in the state, which is the reason we're so involved with The Working Land's alliance and The Farmland Trust," he said.
And it's all for a purpose.
"We want to create an abundance of fine, organically grown food for Connecticut citizens," he said.
This is a long-term mission, addressing the needs of future generations through education, support, and advocacy.
"We're not there yet but we're certainly working on it," Bill said.
Perhaps most importantly, they educate consumers about their power to effect positive change.
"Our relationship to the earth is our most [essential] connection," Bill said.
Maybe one day, if I am very lucky,  I will be as eloquent as Bill.
The chef is in

I have known John Turenne, president of CT NOFA's board of directors, for several years. I can attest to both his commitment to the cause of healthier food systems as well as his love for the work he does. Plus, he's just plain great to be around.
He never ceases to inspire me!
John spoke about attending a CT NOFA winter conference for the first time in 2003.
"It's my love of this work that brought me to CT NOFA, where I advocate for and support local and organic food, farming, gardening and land care," John said
Both John and Bill went to Hartford to encourage legislators to pass GMO labeling in Connecticut – and then to savor the fruits of their labors.
"One of my proudest moments at CT NOFA was when Connecticut became the first state in the nation to pass GMO labeling legislation," John said.
Labeling has not yet taken effect in Connecticut … and so CT NOFA is still on the case.
John went on to thank Travis Marcotte, executive director of the Intervale Center in Burlington, Vermont for giving the keynote speech.
"The work happening at the Intervale Center is an inspiration to us all – and it means a lot to have Travis with us here today," John said.
And then he introduced the group's new executive director, Jeff Cordulack.
"For those who have not had the chance to meet Jeff yet, I can't wait for you to do so," John said. "When I met Jeff, he touted himself as CT NOFA's biggest fan."
And, Jeff has proven that to John.
"His energy, passion & commitment to our environment, food and people is certainly contagious," John said.
Also speaking during the keynote was Steve Reviczky, Connecticut Dept. of Agriculture,
Commissioner.
The bunnies, vendors – and a great lunch!
And no CT NOFA winter conference would be complete without cute animals, the vendors, the raffle and a tasty, healthy locally prepared lunch.
One of the bunnies —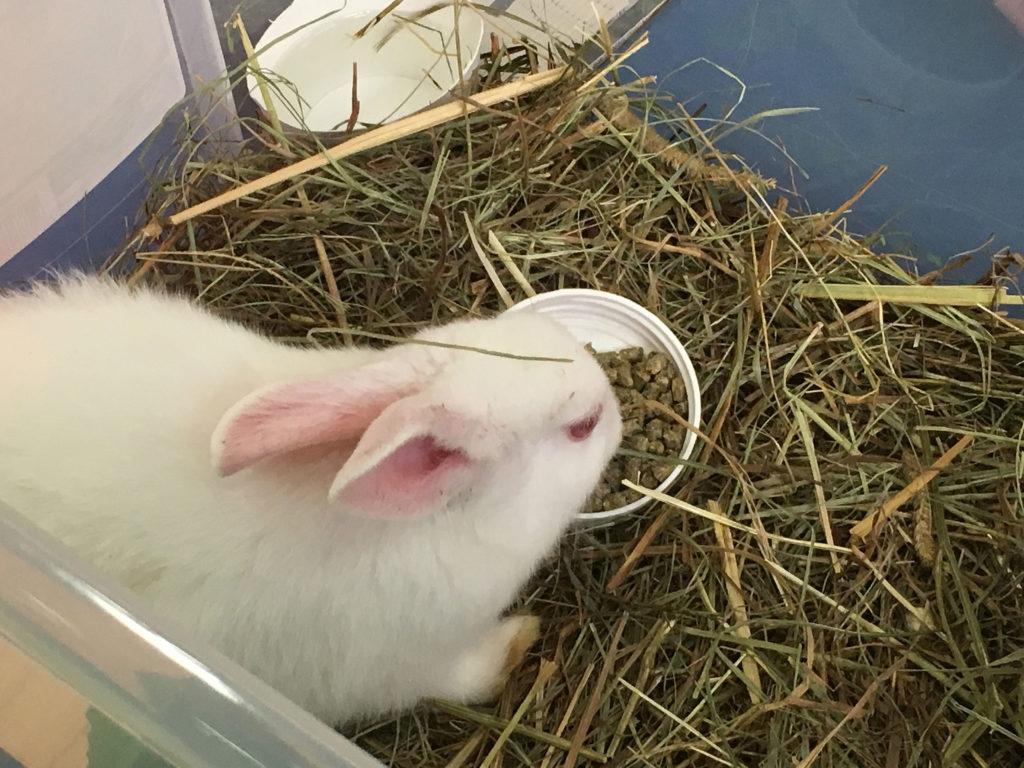 Vendors and raffle. Someone else got the raffle prize that shoulda been mine – and they have no idea who they are. —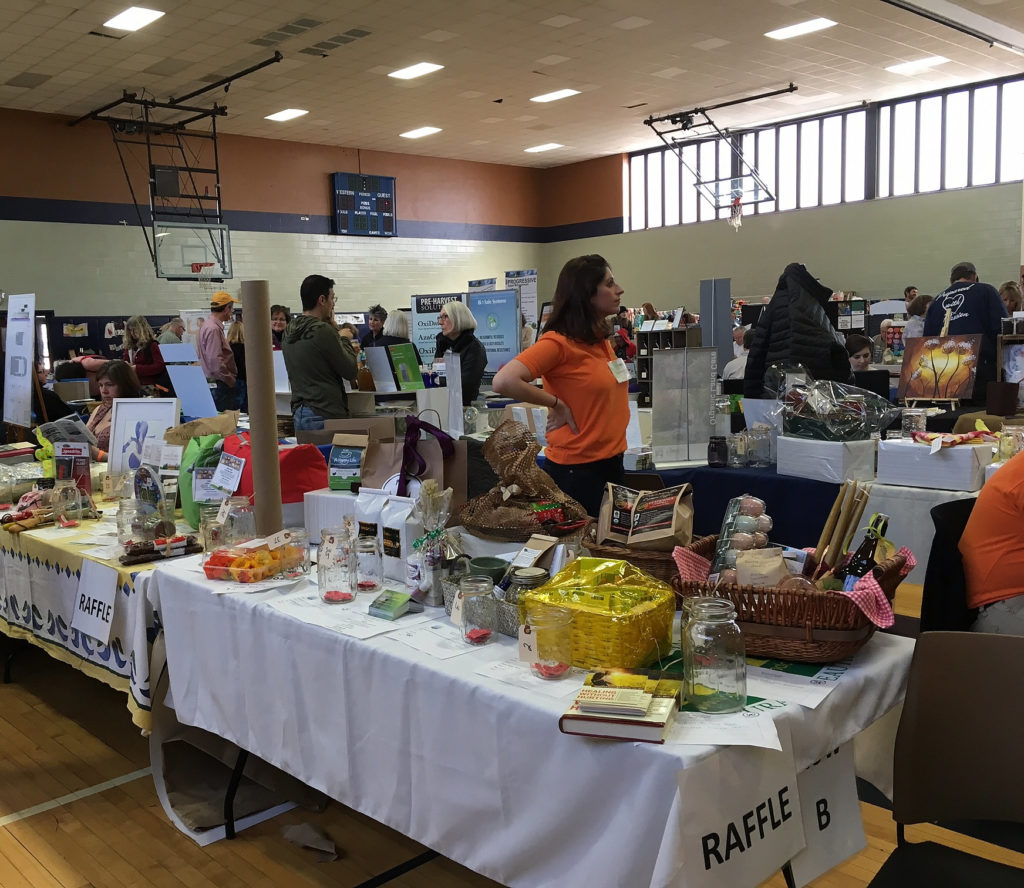 The lunch. It all looked spectacular but Sugar & Olives restaurant gets my prize of gratitude. Their representatives went a step above by putting together a special dish that did not conflict with my allergies. Thank you! 🙂 —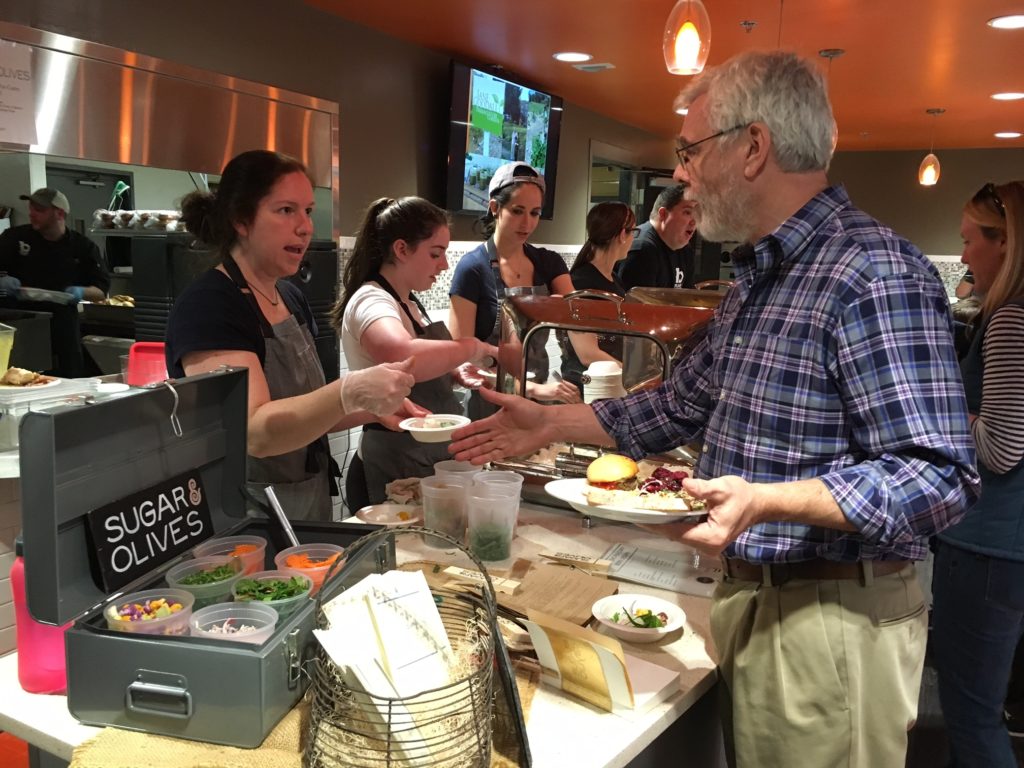 Learn more about CT NOFA by going to:  ctnofa.org