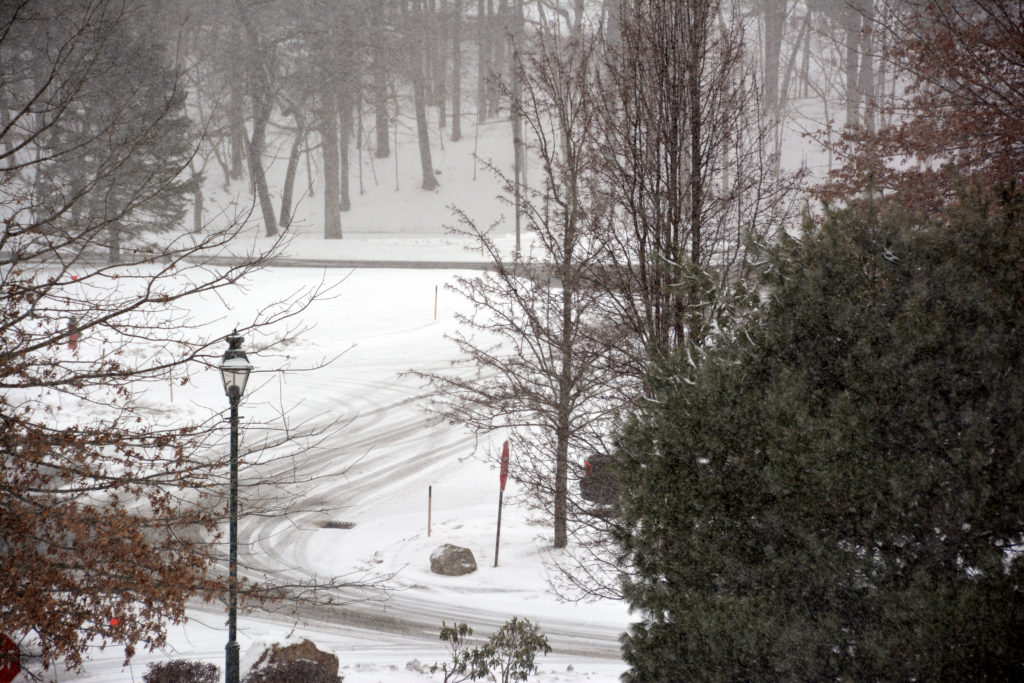 A small town in New England has decided that it has had enough of Mother Nature doing whatever she wants and is trying to take action.
"Really, this is getting ridiculous," scoffed a resident of a town that wishes to not be named.
"Bugs in the summer, snow in the winter, sometimes all the way until April – and rain whenever it pleases," the resident said. "What about local autonomy? What about all that mud in the spring?"
Having clean shoes is important to this particular town.
It's a lawsuit? Really?
Well, not exactly, said the town's mayor.
"Clearly, we cannot sue Mother Nature," he said.
She has no money.
"But, we can make it difficult for her to have her way," he said
Calling this a lawsuit was just a way to get publicity.
"Nobody really believes headlines anyway," he said.
The mayor added that if Mother Nature is actually a HE then please accept his apologies, it's hard to figure out gender these days.
What's more…
So, there was a town meeting and a consensus was reached to "plow and salt the heck out of the streets" this winter.
"We are not going down without a fight," said the unnamed location's director of public works.
The town's school superintendent said that children will remain at home once snowfall totals reach an inch.
"These children must not be exposed to that Mother Nature tyrant and the horror of snow," he said.
Nobody in the town should be bothered with owning all-wheel-drive vehicles or driving slowly.
"People have music classes to take children to and lunch dates," The mayor said. "This is about the local economy, too."
Warmer Days
Every inch of the town will be saturated with bug spray the first time the temperature hits 60 degrees – and if the mercury then dips below 50, spraying will commence again the next time it warms.
"I think taxpayers will find this a worthy expense," the town's comptroller chimed in.
"If we have some warm winter days…. well, I proclaim, 'spray early, spray often,'" the mayor said. "The important thing is that nature does not have a chance to survive and continue its assault on our community."
A full list of revenge tactics is available at town hall, where residents may pick up complimentary disposable plastic containers for use and discard.
Mother Nature's Response
Well, first, let's all remember the Chiffon Margarine commercial from the 1970s.
"It's not nice to fool Mother Nature," the commercial declared.
And that is a message she hopes can still be true today. Same message, different situation.
"I don't know who the heck they think they're kidding," she said.
Bugs are a part of life.
"Once the bugs are gone, it won't be too long before Man follows," a spokesman for Ms. Nature said.
And snow serves a purpose.
"It insulates the ground," he said.
That way the soil stays warm and thaws quicker in the spring for a longer growing season.
"But, who needs soil when there are supermarkets," Ms. Nature said.
However, toxic sprays do not discriminate.
"I look on this community with sorrow," Ms. Nature said. "I will find a way to survive but the best parts of me will end up someplace else.
What about food and water?

"[All those chemicals] will be in the food and drinking water supply," the spokesman said.
Ya know, underground, with the soil and plant roots.
"Where do they think food and water come from," he said.
Once anything is absorbed into the ground it has a good chance of ending up in water, such as streams and oceans.
"I guess they don't want me to stick around," Ms. Nature said. "I can take a hint."