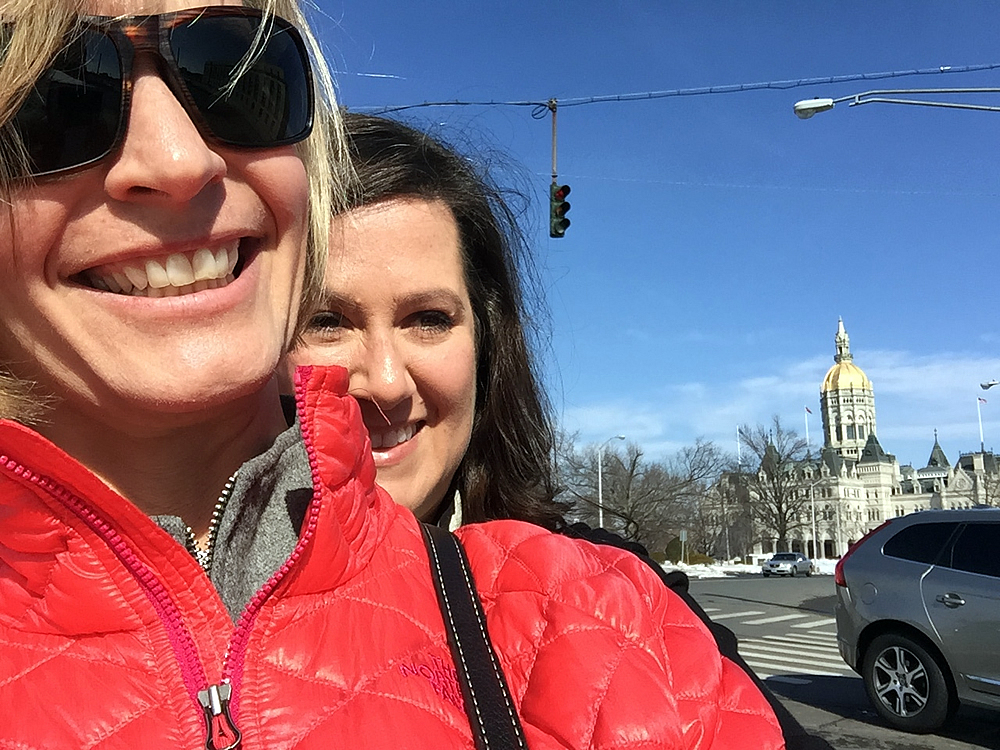 Tricia Donovan (left) and Jessica Curran never meant to end up at the Connecticut state capitol, but in March 2015, they testified before the education committee on a bill they wrote.
The bill – HB 6975 – would create a task force to study food allergies in Connecticut schools.
"Jessica and I wrote a bill for our [state] reps, who agreed to sponsor it – Cristin McCarthy Vahey and Brenda Kupchick," Donovan said.
It went through rewrites by Legal and others injected their two cents as well.
Language was added in from a bill that wasn't getting traction alone that dealt with training bus drivers to administer epinephrine, Donovan said.
She said that the languishing bill was "much needed" and a great one to combine with theirs. Representative Hampton had been its sponsor.
"So our bill was raised out of [the] education committee and passed through both houses!" Donovan said. "The governor signed it on July 2nd [2015]!"
Curran was ultimately appointed to the state task force and is "waiting for things to get rolling."
Donovan is preparing for this year's election. She is running for a position on the Fairfield Board of Education.
I am so proud of these two ladies. I met them a couple of years ago when I was writing for the Fairfield Sun newspaper. They each have two children with life-threatening food allergies in the Fairfield school system. It is a joy for me to work with them!
The moral?
Next time something impacts your family, press on… governing bodies need residents to push for what is important in communities. Don't be a lazy "advocate!"
I recently interviewed Curran about tips for keeping children with life threatening food allergies safe going back to school. Here is the story that appeared in my August newsletter ….
We get by with a little help from our friends
Do you have some compassion to model for the children around you? It might be just what the doctor ordered to help save lives. To protect children with life-threatening food allergies.
Perhaps the biggest conservation project we have is to safeguard the well-being of this generation. Many children are already afflicted with health and behavioral issues. And while long-term the solution comes down to healing the natural world – right now a growing number of children need protection on a daily basis.
It takes adults educating themselves on why this matters and how to help – and then passing along knowledge and understanding to impressionable youngsters in their care.
And, ultimately, it might just save someone with no known history of life-threatening food allergies.
"A large percentage of the food allergic incidents in school are children who previously had no known reactions," Jessica Curran, mother of two boys with life-threatening food allergies, said.
Not only that, but a history of a minor reaction, such as hives, has no bearing on the future.
"A child can have hives 50 times as a reaction and the 51st time can be anaphylaxis," Curran said.
And a child who goes into shock for the first time is less likely to have an EpiPen.
An ounce of prevention

Fortunately, there are easy things that anyone can do to help reduce the risks.
One of the most important is hand washing.
"All parents should teach their children to wash their hands before and after eating," Curran said.
Hand sanitizers do not remove food protein though. Soap and water is preferable. Or hand wipes can be used as a back-up.
Food allergic reactions may occur without a child actually ingesting the food that causes a reaction. Children have had reactions from things like high-fiving their friend who just ate their allergen or touching an object with residue.
"Peanut protein [for instance] can last on a surface up to 120 days," Curran said.
Another way to help is to read labels.
"You have to read the whole label, all the ingredients," Curran said.
Not every product out there has allergy labeling.
"[Read entire labels] for all food you send in to school," Curran said.
The societal aspect

For children with food allergies, that food is a deadly weapon.
"If you put a peanut in one hand and a gun in another – both can take my child's life very quickly," Curran said.
And yet eating is a big part of socializing.
"That bond can happen in other environments [though]," Curran said.
When planning a celebration, parents can think of ways of being inclusive to all students. And involve children in the preparations.
"There are ways to have fun without food," Curran said.
Nothing is 100%

Parents with food-allergic children – like all parents – tend to recognize that their child will never be 100% safe. None of us are untouchable. But, like with other dangers, putting barriers in place reduces risks.
And focusing attention on the root of the issue could someday make this type of story obsolete.
"Shouldn't you be wondering what in the world has changed that's causing these things?" Curran said. "That's where the conversation should be."
Photo: Donovan, left, and Curran in Hartford, Conn. at the state capitol this past spring. Submitted photo.
While you're here, why not sign up for our free monthly newsletter – on the right towards the top of the page.