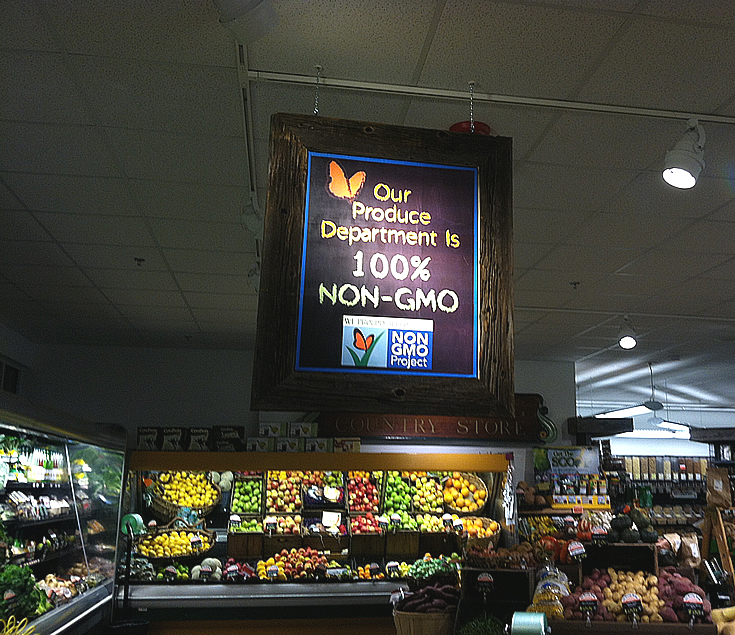 The media would have you believe that corporations like the ones that own Chipotle restaurant chain or Whole Foods Market are heroes for going partially anti-GMO and requiring labeling soon, respectively.
But, this parade the mainstream media is throwing is mainly due to their attraction to large corporations over the ad revenue dollars they utilize.
In reality, it is people like you and me (exactly like you and me actually) who are tipping the scales in the anti-GMO battle. We are the ones that food companies need in order to stay afloat, in much the same way that the media needs corporate ad dollars to turn a profit.
How it works
So, the mainstream media kisses up to large corporations by singing their praises. This has been going on for ages.
The big difference now is that people are paying an increased amount of attention to little blogs like mine, which aren't kissing up to corporations.
Education and opinions are more common on a widespread level thanks to the Internet. People can publish without looking over their shoulders aware of sponsorship concerns.
And I think this has made all the difference.
Corporations are starting to respond to the common folk who are being educated, entertained and inspired on Internet websites. Bloggers might be their neighbors, community members, or someone across the world.
Mainstream media, however, seems to be on the fence a bit. They have business (ad revenue) relationships with corporations which are infusing our food supply with GMOs, pesticides and other pollutants. So, they have to tread carefully.
And now that the general public has access to information that actually takes a stand and provides useful information, the watered-down mainstream media is less enticing.
Taking dollars out of Big Ag coffers
The beautiful produce department pictured above is at New Morning Market in Woodbury, CT. It is seriously the best produce department I've ever come across.
The store's owner, John Pittari, has been in the natural food biz since the 1970s. I recently asked him how he sees the market for healthy, organic food having changed during recent years.
He said it has grown.
I asked if it's more of the same types of people or some of the same types and some others.
John said that the biggest change is the influx of Millenials.
According to wikipedia.com, Millenials are those born between the early 1980s and 2000s.
John said that Millenials, as a group, are aware of healthy eating practices and favor them over unhealthy eating.
I think they are also cognizant of corporate control of our food system and want that to take it back. And, since they are of the age where they have disposable income, money-making corporations are catering to them.
Hooray!!
Places like New Morning Market – and farm stands – were once the only game in town for healthy food. Now, though, it's not even Whole Foods Markets  and Trader Joe's where you can find organic and/or local on a large scale. It's regular supermarket chains.
I noticed recently that a chain supermarket nearby has gone from one aisle of natural food to one and a half – and is now two full aisles.
WE are growing this.
By the way, I don't think there's anything wrong with a company being in business to make money. Some will also be in business to do good but at the end of the day it is demand from the general public that drives the sales – and therefore controls the corporations.
In that way, it's good news that corporations control our country, in a way, because we can control them. We vote them in or out of business with our dollars.
And now we also are informing one another – through the Internet – about things we need to know to serve our personal interests.
A little knowledge …
So, spread the word about topics that matter to you. Every little bit counts because inch by inch it sinks in and change happens!
I think a danger to change is the idea that it should happen immediately or else it's not working. Maybe this comes from the way things are so effortless online or seem to happen without much effort on your favorite sitcom.
Our food system did not get in this mess overnight. Nature finds a way though, and I think if we keep at it, will heal.
So, let's keep at it.